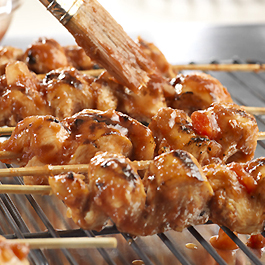 Courtesy of Campbell's® Kitchen
Servings: 4
Prep Time: 10 Min.
Cook Time: 10 Min.
* 1 lb. skinless, boneless chicken breast halves
* 3/4 c. Pace® Picante Sauce
* 1 Tbsp. vegetable oil
* 1 Tbsp. lime juice
* 1/4 tsp. garlic powder or 1 clove garlic, minced
* 1/2 tsp. ground cumin
1. Place the chicken between 2 pieces of plastic wrap. Pound the chicken to 1/2-in. thickness, using a meat mallet or a rolling pin. Cut lengthwise into 1-in. strips.
2. Stir the picante sauce, oil, lime juice, garlic powder and cumin in a small bowl. Add the chicken and toss to coat.
3. Thread the chicken accordion-style on 8 skewers.
4. Lightly oil the grill rack and heat the grill to medium. Grill for 10 min. or until the chicken is cooked through, turning and brushing often with the picante sauce mixture. Discard any remaining picante sauce mixture.

* If using wooden skewers, soak the skewers in water for 30 min. before using.
Calories: 177;
Total Fat: 6g;
Saturated Fat: 1g;
Cholesterol: 67mg;
Total Carbs: 5g;
Fiber: 2g;
Protein: 24g;
Sodium: 434mg;